We are pleased to announce that this year's event will take place at The Hub, Regent's Park on Sunday July 6th. For those of you who were lucky enough to be at last year's event, it's being held in the same place.

This is a wonderful day out for Trinis and friends, open to families and limers alike. It's gonna be food, fun and football in the park once again. So bring the kids and even the pets out and let's spend a great day together.

LIMERS ARE ADVISED TO WALK WITH THEIR OWN ALCOHOLIC BEVERAGES AS ONE OF THE CONDITIONS OF OUR RENTAL AGREEMENT IS THAT WE ARE NOT TO SUPPLY ALCOHOL ON THE DAY.

The football tournament itself is open to anyone willing to put a team together. The tournament adopts a round-robin format, through to the semi-finals and finals, where this year's champions will be crowned.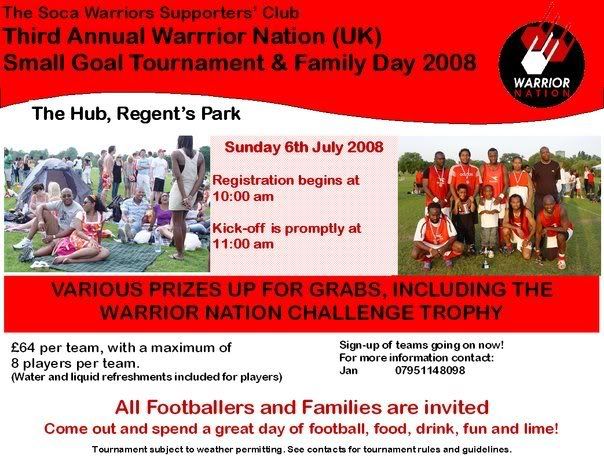 Entry fee - £64 per team, with a maximum of 8 players per team.
(Water and liquid refreshments included for players)

VARIOUS PRIZES UP FOR GRABS, INCLUDING THE
WARRIOR NATION CHALLENGE TROPHY!

Will Psycho 5 be able to do the 3-peat this year? Will TnT All Stars finally get revenge? Last year we had Dwight Yorke as our special guest, who will it be this year? Only time will tell.

NOTE: 9 team places have already been booked so get your team registered now!

For more information contact Jan on 07951148098